Cost Effective Pathways to France and USA:
Students aspire to study abroad in their dream destinations. Parents are also keen to support and explore the options. One of the predicaments faced by parents is the cost of studying abroad. The average cost of studying abroad is around USD $ 35,000 per year.
That brings us to this question? Are there cost effective options to the aspiring student? The answer is in the affirmative.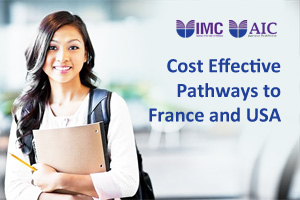 EduSaarathi in order to provide cost effective pathways has collaborated with IMCAIC to provide flexible study options through partnership with some leading institutions in France and USA.
A unique feature of the pathway is the option to pursue part of the program in a European country or through remote learning from India. On successful completion of 2 years the student gets the opportunity to study in one of the universities from France or USA offering specialisations Aeronautical, Information technology, Biotechnology, Management, Data Sciences, etc.
Pathway options
+2 INDIA
IELTS / No SAT
Year 1
European university
Year 2
European university
Year 3
France / USA








+2 INDIA
IELTS / No SAT
Year 1
European university
Year 2
European university
Year 3
France / USA
Year 4
France/USA




+2 INDIA
IELTS / No SAT
Year 1
European university
Year 2
European university
Year 3
France / USA
Year 4
France
Year 5
France
Bachelor's Programs
Science and Engineering Programs
Electronic for Automotive and Aeronautics systems
Automation and Industrial Robotics
Electrical Engineering and Transport
Mechatronics and Electrical engineering
Embedded Systems Engineering, Autonomous Vehicles
Embedded Systems Engineering, Communicating Objects
Energy and Sustainable Development
Medical Engineering
Communications Engineering
Network Architecture and Security
Digital Service Engineering
Big Data for Digital Transformation
Business Engineering, Networks and Telecommunications
Business Engineering, Energy and Signals
Financial Engineering
Arts, Business and Management Programs
International Bachelor Program in Management
Automation and Industrial Robotics
Bachelor's in International Business Management
B. Sc International Management
B. Sc Psychology
Masters Programs
Engineering & Science Programs
MSc in Aeronautics and Space Engineering
MSc in Engineering and Management
MSc in Energy and Environment
MSc in Data Engineering
MSc in Creation and Entrepreneurship
MSc in Structure and Materials
MSc in Engineering and Digital Technologies
MSc in Engineering and Health
MSc in Building and Eco Cities
M. Sc in Biotechnology Engineering
MSc in Nuclear Civil Engineering
MSc in Concrete Material Engineering
Arts, Business and Management Programs
International Bachelor Program in Management
Automation and Industrial Robotics
Bachelor's in International Business Management
B. Sc International Management
B. Sc Psychology
MSc in International Finance
MSc in International Marketing
MSc in Digital Marketing & Communication
MSc in International Luxury & Brand Management
MSc in Business Analytics
MSc in International Human Resource Management
MSc in Supply Chain Management
MSc in Sports, Leisure & Tourism Management
MSc in Sustainable Management & Eco-Innovation
M.Sc. International Management
M.A. Strategic Marketing Management
M.Sc. Finance
M.Sc. Business Intelligence & Data Science
M. Sc Psychology
MSc in Global Business Management
MSc in International Business Negotiation
MSc in International Accounting, Management Control & Auditing
MSc in International Market Analysis
MSc in International Business
MSc in International Management
MSc in Innovation & Entrepreneurship
MSc in Creative project Management, Culture & Design
M.Sc. International Logistics & Supply Chain Management
M.A. Luxury, Fashion & Sales Management
M.A. International Business
MBA General